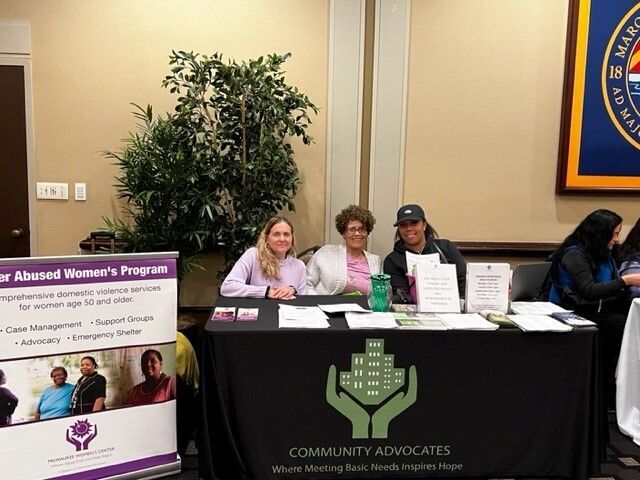 After four years away due to pandemic restrictions, Project Homeless Connect was back and thriving at Marquette University on Thursday, October 19. Along with dozens of other Milwaukee social services providers, Community Advocates was there to serve the public with a smile, with team members answering questions on both the Community Advocates rental assistance program and the Milwaukee County Energy Assistance Program, working hard to raise awareness of both programs in anticipation of the upcoming winter.
Community Advocates provides a diverse range of services and programs for unhoused Milwaukee residents as well as for Milwaukee residents at risk of homelessness. These services include our Housing Department programs to help tenants and landlords address housing issues to prevent evictions and homelessness; the Homeless Outreach Program to engage with and serve people experiencing chronic homelessness and mental health issues; the Autumn West Safe Haven, a low-barrier housing refuge for individuals experiencing both chronic homelessness and disability; the Project Bridge Supportive Housing Program, which provides supportive case management services to newly housed individuals; as well as the multilingual and trauma informed Family Support Center Emergency Shelter, which allows families to stay together while they take steps to find secure housing and supports. Taken together, these programs help individuals and families find safety and stability as the number of unhoused individuals is increasing in the Milwaukee area.
These services are more vital than ever, as more and more Milwaukee residents are finding themselves homeless or at risk of being homeless. To learn more, go to communityadvocates.net.