Nevermore Support Network
Help Us Break the Cycle of Violence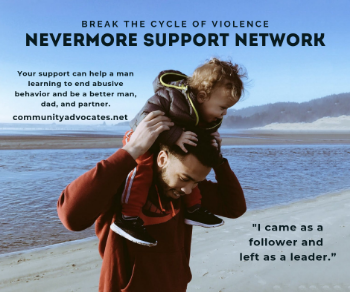 We want to break the cycle of violence for good so that every man, woman, and child can live in peace.
To reach that goal, we need to address the root causes of the abusive behavior.
The Milwaukee Women's Center's Nevermore Batterers Treatment Program does just that. We work with men with violent pasts so they understand the motivations behind their behavior and learn new ways to address issues within their relationships.
Nevermore works with men one-on-one, with their partners, and in group settings to provide trauma-informed education and awareness of the dynamics of domestic violence; healing and rehabilitation; nonviolent communication and conflict-resolution skills, and the development of an abuse prevention plan.
But we can't do this alone. We need your help.
The Nevermore men are doing a lot of hard work as they break the cycle of violence. They're doing soul searching, trying to change their behaviors, and improve their relationships with their partners and children.
The Nevermore staff are there for them whenever they need us. But we believe they could use more support from the community.
Please join our Nevermore Support Network and be the advocates that these men never had in their lives.
Here's how:
Send a message of encouragement: The Nevermore men need to hear that someone believes that they can change their behavior and live lives free of violence. They need to hear that their families and their community want them to live peacefully, become great partners and dads, and be role models to young men who are struggling to do the right thing. Send them a message now and become part of the Nevermore Support Network.
Sponsor the Nevermore program: Participants must attend 23 two-hour sessions to complete the Nevermore program, and each session costs $10. That might seem like a small price to pay, but sometimes it can be difficult for a man to provide the $230 needed to complete Nevermore. He may be newly released from incarceration, have unstable employment, or be coping with a substance use disorder. Any gift you give will help to break the cycle of violence and prevent a new generation of children from living with the trauma of abuse.