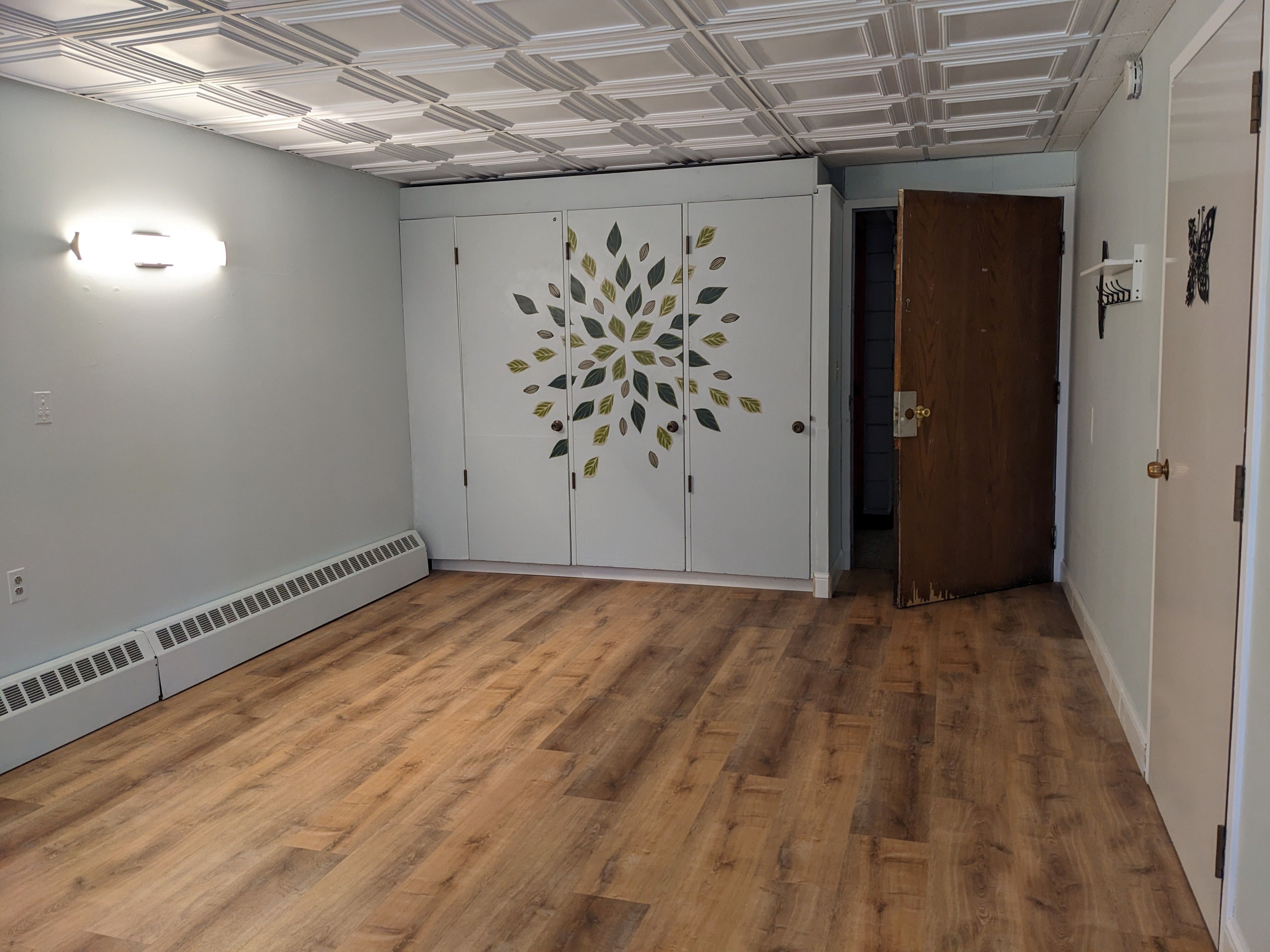 For many of us, redesigning a room is all about aesthetics, such as paint color, pillows, blankets, and decorative objects to create the right atmosphere.
But when Karen Delvecchio volunteered to lead a redesign of a room at the Milwaukee Women's Center Emergency Shelter, her concerns were completely different. The shelter is home to a steady stream of adults and kids who have survived domestic violence or homelessness, and each room must withstand a good amount of wear and tear over time.
"When I got that first phone call and took a tour I thought, 'Sure, I can redecorate it and buy some bedding or carpet and find ways to make the room look nice'," Delvecchio said. "And then I realized that's not what the project is about. They didn't need just decorations. The bedding goes with the families, for example, when they leave the shelter. I had to shift to more structural and permanent changes to make it look and feel better."
Delvecchio wasn't daunted by the challenge. Although she says she had limited experience doing renovations, she has a lot of leadership experience and the courage to dive into a new challenge.
"I don't mind taking on a project that I don't know how to do and figuring out how to do it," she said. "For me it was figuring out how to raise some money, recruit some friends, and take on the project one aspect at a time."
Over the course of the six-month project, she recruited about 10 friends and raised close to $3,000 to cover the costs of the materials. She and her team took it step by step "and brainstormed solutions." They addressed everything from the flooring to the lighting, including upgrades to the doors, paint, furniture, and decor.
She had a lot of help along the way, from her husband Lenny, who was heavily involved, and her friend Cathy, who ran the social media and fundraising, to the flooring team and the painting team, each spending many hours working on the room. She pulled on friends for multiple aspects, such as designing a sturdy way to hang the curtains on a non-standard wall. To keep costs low, they solicited in-kind donations, shopped at garage sales, and located items on Facebook.
The limitations posed by the heavy use of the space fired up their creativity.
"I had a friend 3D print stencils to create the leaf pattern from the curtains on to the closet," she said, "and another friend took on the work to use the stencils to paint the closet doors. It was a design element I could add without carpet or anything soft. We used the same colors and in a mandala pattern. I think it adds a special element to the room and ties everything together."
Overall, Delvecchio is most proud of the transformation of the room into a beautiful, welcoming place of refuge.
"I really love the way it feels," she said. "It's bright, it feels clean and classy and almost like a hotel. I would love the families to feel like they're staying in a hotel, or somebody's spare bedroom."
She encouraged volunteers to consider working on a room renovation at the shelter, no matter what your level of expertise.
"You don't need to be that handy, but it does take a group." she said. "You need at least one handy person. The way we accomplished it was by dividing and conquering. I did the recruiting, fundraising, leadership and scheduling, and filled in the spots with people who had time, will, and expertise. For example, I had options, so if you had two hours, you could help me with a smaller task. If you had six hours, you could help me install flooring. Even two hours could help to renovate a room."
On behalf of everyone at Community Advocates and the Milwaukee Women's Center, we want to thank Karen and her friends for transforming the room into a special place that will enable adults and families to heal and find hope again.
If you are interested in volunteering at the Milwaukee Women's Center Emergency Shelter, please contact Jeri at jkavanaugh@communityadvocates.net.