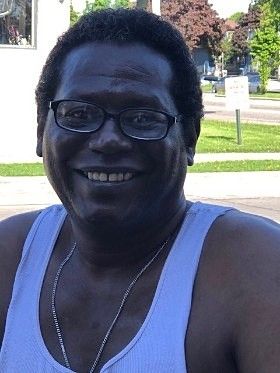 Imagine dealing with a spinal injury and the many grueling surgeries you must have to be able to walk again and live without pain. Now imagine recuperating from those surgeries while you are experiencing homelessness and living in a shelter.
That's the unimaginable situation Michael found himself in a few years ago.
Thankfully, he found Community Advocates' Project Bridge supportive housing program.
Michael has packed a lot into his life. He's quick to laugh, intelligent, and has impeccable manners, peppering his conversations with "yes ma'am" and plenty of "thank you's" and concern for those who are less fortunate than him.
Michael served in the US Marines and saw the world. After leaving the military, he lived in Haiti for three and a half years while studying to become a priest. He worked as a flight attendant for the next 16 and a half years, when he traveled around the globe again.
But after the airline laid him off his life took an unexpected turn: he was unemployed, with a spinal injury, and without a home in a city he'd never lived in before -- Milwaukee.
"My friend brought me here," Michael explained. "Milwaukee was not one of the places I wanted to be in. It was not even on my radar."
Like many job-seekers after the Great Recession, Michael looked for work but the job market was tight then and he couldn't get hired. He lacked a place to live and ended up at the Milwaukee Rescue Mission.
"Then my back started acting up. I didn't have any health care so I had to go to the doctor and they discovered that my spine was deteriorating," he said.
So now Michael had three crises to deal with: joblessness, homelessness, and poor health.
He needed surgery, but he couldn't stay at the mission while recuperating. Thankfully, the Salvation Army allowed him and a friend who also had medical problems to stay while they recovered their health.
"The Salvation Army was hard but I liked it because I was able to lay down and rest," he said. "I was able to walk outside. I was able to do things and not be burdened by other things. I really appreciate the Salvation Army and all of the good work that they do."
He had surgery but it wasn't a complete success. The doctor missed some bone fragments left on a nerve, which meant that he needed another surgery.
Over the course of his year at the Salvation Army, Michael gradually began to heal from his multiple surgeries. But the best part of his stay was meeting Roseanne Norwood, a counselor who'd previously worked at Community Advocates' Project Bridge program, which helps those experiencing homelessness to find and keep permanent, supportive housing in the community.
"I miss her and I thank her for everything," Michael said. "If it wasn't for her, who knows where I would be right now."
Norwood was able to connect Michael with Project Bridge and begin the process of obtaining VA benefits. With Project Bridge's assistance, he and a friend from the shelter moved into their own apartment. An apartment, he was amazed to find, that was fully furnished by Project Bridge when they arrived.
"That totally blew my mind," he said. "I had a TV. I had a bed. I had a couch. I had dishes, I had pots and pans. I was like, oh my goodness. It was just awesome. And it made me feel good. I appreciate everything."
Michael's Project Bridge case manager, Nichole Weaver, has helped him regain his independence and his sense of value and self-worth.
"Miss Nichole -- oh my gosh!," he said, somewhat at a loss for words. "She has been a major part of my life. She would always make sure that I had a ham or a turkey for Thanksgiving. And it felt good. It really felt good. Project Bridge has helped with my dignity."
After these years of struggle, Michael now has a new challenge in front of him. He's leaving Milwaukee for a new start in a small town in upstate New York. The move is bittersweet. His brother recently died and gifted Michael with enough money to buy a home and a car.
"It's home but it's not going to really be home because my brother is not there," Michael said. "All this is done through his dying. He's made sure that I would always have a place to live and nobody can take it away from me. I won't be homeless anymore. I will have a place. Now I will have a house where I can just wake up in the morning and make a cup of coffee and sit outside and just watch people or go to the backyard and just be happy."
Packing up his apartment is difficult, since his back still isn't 100% and he needs another surgery, his sixth. He's taking a friend he met at the mission who has helped him through all of his surgeries, as well as his puppy, to New York State.
"I don't want to feel like an invalid," Michael said. "Don't take things away from me that I want to try to do. Like, I'm really not supposed to be doing dishes or laundry, but I'll do them. God gave me hands. I still have my legs. I still have everything. Let me do what I can do."
While he's saying goodbye to Milwaukee, he said he's going to miss those who helped him get back on his feet -- literally.
"I really appreciate Miss Nichole, Project Bridge, Miss Roseanne, the Salvation Army. All of these things were in the mix for a reason -- to work on me and help me come back to full circle of life. I feel good, I feel blessed, I am thankful for everything."