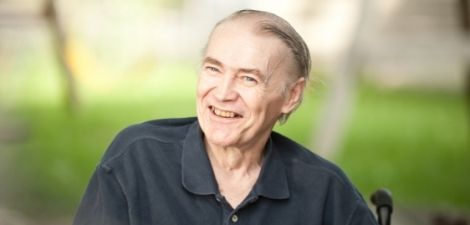 Stanley is a veteran in a wheel chair. He spent 11 years in the US Air Force before, as he puts it, "My MS [Multiple Sclerosis] said no."
He started to lose his balance and figured "something wasn't right." The Air Force granted him a discharge. Yet, he cannot get a pension now, because he lacks documentation proving when exactly he contracted the disease.
A couple years ago, Stanley was having a hard time just getting by. After a ruling regarding his divorce, back-child support payments came due.
This change suddenly slashed his income in half. Now, after he paid his rent every month, he only had $200 extra for food, medicine, and all of his other needs.
Because of his disability, he had a hard time going around looking for new places. He was confused by the process. He wanted to get into subsidized housing for seniors, but he was 61, and most places don't accept people until they're 62.
Unsure of where to go or what to do, Stanley came to Community Advocates. Staff advocated on his behalf at a subsidized senior housing complex, so he could apply before his 62nd birthday.
He was accepted, but he had to wait until he turned 62 to move in. (This way, he could avoid a waiting list that is sometimes six months or more.) Community Advocates paid his rent at another apartment, until he became eligible.
Stanley moved into his new place shortly after his birthday.
"I love it here," he says. "I finally feel like I can breathe again." He has his own kitchen, bedroom, and bathroom. The entire apartment is handicapped accessible. Soon, a wheelchair-accessible shower will be installed.
The guy who manages Stanley's new apartment has a dog named "Smokey." Stanley loves dogs.