Community Advocates' priority is the health and well-being of our staff, clients, community partners, and volunteers during the coronavirus public health emergency. Here, we're collecting resources to help our community members meet their basic needs, like energy assistance, rent, food access, and more. Submit your resource to lkaiser@communityadvocates.net.
Community Advocates
Community Advocates' sites are closed to the public during the Coronavirus public health emergency, but we are still providing services by phone and email, and our supportive housing and emergency shelter are still operating 24/7 with appropriate safety precautions. Some ways you can contact us:
Call: 414-270-2992
Email: Contact Us
Click: Details on How We're Providing Services
Click: Public Policy Institute's COVID-19 Health, Mental Health & Policy Resources
Click: COVID-19 Resources for Youth & Family Wellness
After Hours and On Weekends: Contact Impact 211
Domestic Violence Services
Services for those who have experienced domestic violence are still available around the clock:
Milwaukee Women's Center's 24/7 Crisis Line: 414-671-6140
In an Emergency Situation: 911
Sojourner Family Peace Center 24-Hour Hotline: 414-933-2722
Sojourner Family Peace Center: Guidance on Filing Electronic TROs
Emergency Shelter
You can get a place in an emergency shelter and other resources by contacting Impact 2-1-1. Impact has temporarily suspended face-to-face appointments but they are conducting appointment by phone at the designated appointment time.
Click: Impact 2-1-1 or Impact's Contact Information during COVID-19 Emergency
Call: 2-1-1 or 866-211-3380
Text: Text your zip code to 898-211
Milwaukee County Energy Assistance Program
The 2021-2022 Milwaukee County Energy Assistance Benefit Season begins October 1, 2022, and runs through May 15, 2023. During the benefit season, eligible county residents can apply for a one-time payment to help cover a portion of their energy bills. The amount of the benefit varies depending on a number of factors, including household income and size, as well as their heating bills. Residents may also qualify for other benefits as well to reduce their utility costs.
Due to coronavirus, all of Milwaukee County Energy Assistance sites are temporarily closed. You may apply via phone, mail, or online. Please schedule your appointment by calling 414-270-4653 or going to keepwarmmke.org. At the time of your scheduled appointment, you will receive a call to start your application. If you prefer to apply online, you can access the link to apply online at keepwarmmke.org. 
For heat emergency on holidays, evenings or weekends, dial 2-1-1.
Schedule your appointment:
Call: 414-270-4653
Click: KeepWarmMKE.org
Community Advocates Help for Renters
Community Advocates is providing temporary rent assistance to Milwaukee County and Waukesha County tenants who have lost income in the past 60 days or whose income has been affected by the COVID-19 pandemic.
Click here to start the application process online right now or check on a rent assistance application status if you are a tenant. 
If you have questions on an application status or need to pick up or drop off documents, we are here to help. The Emergency Rent Assistance Program is open to the public 9 am-4 pm Monday-Friday at our downtown offices, 728 N. James Lovell St., Milwaukee, for those who prefer to come in-person.
Call: 414-270-4646
Email: renthelp@communityadvocates.net.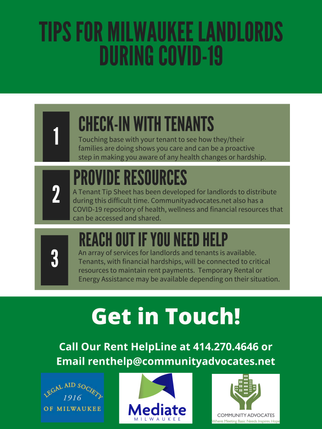 Community Advocates Help for Landlords
Your tenants may be going through a hard time during the COVID-19 public health emergency, so it's important to stay in contact with them to prevent problems from developing. Here's how you can do it:
Call: Rent HelpLine 414-270-4646
Email: landlord@communityadvocates.net 
Employment & Unemployment Resources
The CARES Act expands unemployment insurance to help Wisconsin workers that have been furloughed or laid off. This federal rescue package has expanded eligibility to cover more workers and increased the maximum unemployment benefit by $600 per week for every American through July 31, which will provide most workers with their full paycheck. The legislation also makes unemployment insurance available for 13 additional weeks for a total of 39 weeks in Wisconsin. Unemployment insurance will also now be available for workers who are unemployed or unable to work because of the virus and don't qualify for traditional benefits. This support ensures that workers are protected whether they work for businesses small, medium or large, along with self-employed and workers in the gig economy. You can apply for unemployment insurance at this link.
Other helpful resources:
FSET @ Community Advocates: 414-290-7700
Wisconsin Department of Workforce Development COVID-19 information
Unemployment COVID-19 Public Information
Employment and Training COVID-19 Public Information
Worker's Compensation COVID-19 Public Information
Vocational Rehabilitation COVID-19 Public Information
Update on Pandemic Unemployment Assistance
Equal Rights COVID-19 Public Information
Food, School, Health Care, Utilities and Internet, and Childcare Assistance
Covering Wisconsin: COVID-19 and Health Insurance Information
Health Watch Wisconsin COVID-19 Page
Hunger Task Force: COVID-19 Resource Page
Hunger Task Force: Milwaukee County Emergency Food Sites Map
Milwaukee Public Schools: COVID-19 Updates
Public Service of Wisconsin: COVID-19 Emergency Internet Resources, Utility Service Help for Consumers, and FAQs for Utilities
Wisconsin Department on Children and Families: COVID-19 Child Care Request for Essential Workforce Families
State of Wisconsin ACCESS: to connect with health care coverage, paying for groceries or child care costs, finding a job, or building your career skills
MCTS Transit System: COVID-19 Page
UW-Madison Extension: Financial Resources to Help Get through COVID-19
UW-Madison Extension: Recursos financieros que le pueden ayudar durante la pandemia de COVID-19
COVID-19 Testing
Milwaukee Community Health Centers are offering testing for COVID-19 (coronavirus) for individuals who do not have a doctor and who are showing symptoms of COVID-19. No insurance, income, or immigration restrictions. Call 211 or your nearest community health center to be screened for an appointment.
COVID-19 Health Resources
Centers for Disease Control (CDC)
CDC COVID Fact Sheets in Multiple Languages
Wisconsin Department of Health Services: COVID-19 Page
Milwaukee County: COVID-19 Dashboard
City of Milwaukee Health Department: COVID-19 Page
Mental Health Resources
Milwaukee County Behavioral Health Division 24-Hour Crisis Line: 414-257-7222
Mental Health America: Mental Health and COVID-19 Information and Resources
Mental Health America: Crisis Text Line: Text MHA to 741741 to be connected to a crisis counselor 24/7.
National Alliance on Mental Illness (NAMI)
MakeTheConnection.net: For military veterans, their friends and family, and clinicians seeking mental health information and resources
English: 1-800-985-5990
Deaf/Hard of Hearing: Text TalkWithUs to 66746; use your preferred relay services to call the Disaster Distress Helpline at 1-800-985-5990; TTY 1-800-846-8517
Spanish: Call 1-800-985-5990 and press "2"; from the 50 States, text Hablanos to 1-787-339-2663; from Puerto Rico, text Hablanos to 1-787-339-2663; click here for more information
The Trevor Project: Helpline for LGBTQ+ Youth: 1-866-488-7386