Community Advocates Rent Assistance Program
Welcome to the Community Advocates Rent Assistance Online Applications for landlords and tenants. We understand this is a trying time and our goal is to make the application process for those in need as smooth as possible so we can assist you efficiently. The following directions explain eligibility criteria for rent assistance and the process so you can know what to expect. Our Housing Advocates are here to help you and we appreciate your patience.
What Is Rent Assistance?
Community Advocates holds government and private contracts to assist individuals and families who have experienced an income loss with a variety of financial assistance supports that include rent, rent arrears, utility assistance, security deposit, and first month's rent.
Our largest funding sources is the Emergency Rental Assistance Program (ERAP). Community Advocates is proud to administer Milwaukee County's and Waukesha County's direct allocations of these federal dollars established by the Consolidated Appropriations Act, 2021. 
If you are a landlord with a tenant who is eligible for rent assistance, please send an inquiry at this link.
Learn more about Waukesha County's rent assistance program in English and en Espanol.
Please read the directions on this page before applying for rent assistance so that the process will go smoothly. Thank you!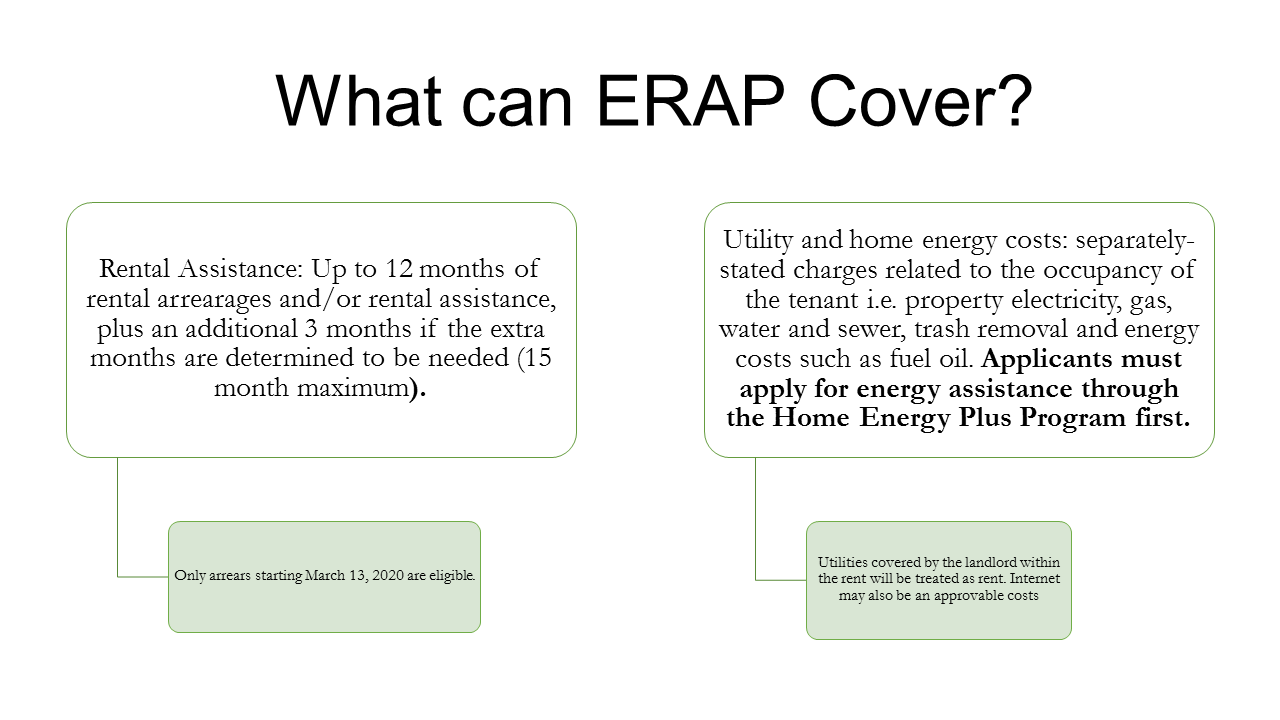 Who Can Receive Rental Assistance?
Individuals and families living in Milwaukee County and Waukesha County who experienced a loss/reduction of income and are at risk of homelessness or housing instability as a result.
One or more individuals in the household has qualified for unemployment benefits or experienced a reduction in household income, incurred significant costs, or experienced financial hardship due to Covid-19, either directly or indirectly.
If you experienced a loss of income within the past 60 days not due to Covid-19, you may still apply for rental assistance.
If you have already applied for rent assistance through Community Advocates in 2020, you may be eligible for rent assistance in 2021. Please reapply at the link provided below and a Housing Advocate will follow up with you. 
If you are a landlord with a tenant who is eligible for rental assistance, please send an inquiry at this link.
How Much Can a Household Receive?
The type of assistance provided is dependent on a needs assessment. The payment is made directly to the tenant's property owner.
Application Process Steps
What is involved in the Rent Assistance Application process?
The Rental Assistance online application can be completed by tenants and landlords on a computer, tablet, or mobile device. The Rent Assistance Application can be found and submitted at this link. 
You can save an incomplete application in your portal and come back to it at any time.
If you are not able to complete your application through these platforms you can come to our downtown offices located at 728 N. James Lovell Street, Milwaukee, WI, 53233 and pick up and drop off a hard copy application. Waukesha County residents can pick up and drop off hard copy applications at these sites.
If you need help or have questions you can contact a member of our team by emailing renthelp@communityadvocates.net. Applicants can also request an application by calling the Rent Help Line at 414-270-4646.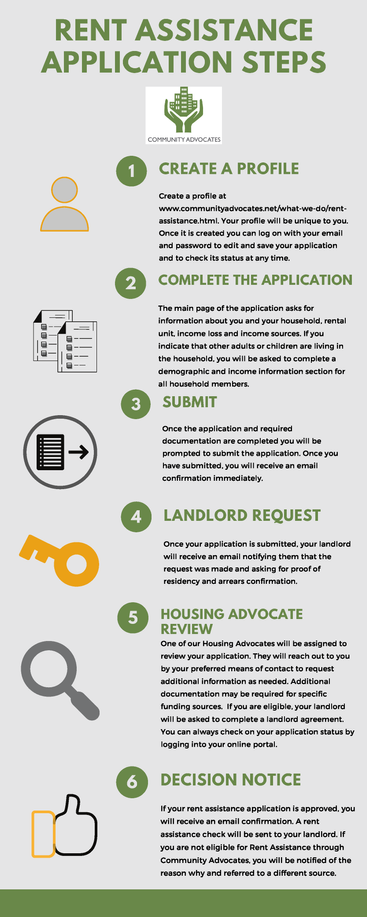 STEP 1: CREATE A PROFILE
Create a Profile at this link. Your profile will be unique to you and once it is created you will be able to log on with your email and password to complete and save your application as well as come back and check its status.
STEP 2: INITIATE AND COMPLETE THE APPLICATION
The main page of the application asks information about you and your household, rental unit, income loss information and income sources. If you indicate additional adults or children are living in the household you will be asked to complete demographic and income information for all household members.
What key information do I need to collect before I complete the application?
Applicant Information and Demographics: Race, Ethnicity, Social Security number, Veteran and Disability Status, Whether you have applied for Emergency Assistance with a W-2 Agency or Energy Assistance in the past 12 months.
Information about your rental unit: Address, Number of Bedrooms, Lease Type, Rent Amount and Security Deposit
Landlord phone number and email
Type of assistance you are requesting: Arrears/Back rent, Future Rent, Security Deposit, Assistance with Utilities (Note: if you are requesting arrears you will be asked the amount and for what months)
Income Loss Information and documentation
Income Sources for all household members including earned wages and benefits such as SSI/SSDI, etc.
Documentation: You will be asked to upload the following documentation prior to submitting:
Identification (photocopy or photo of driver's license or state-issued ID)
Photocopy or photo of 5-day eviction notice for non-payment of rent (Note: If this cannot be provided at the time of the application, Community Advocates will reach out to your landlord to get the arrears information)
Documentation of financial hardship (unemployment compensation approval notice, a copy of your termination notice, lay-off notice, letter-indicating place of employment closing, etc.)
Documentation of income if applicable (wage statement, unemployment statement, etc.)
STEP 3: SUBMIT YOUR APPLICATION
Submit! Once the application and required documentation are completed you will be prompted to submit the application. Once you have successfully submitted the application you will receive an email confirmation immediately.
STEP 4: LANDLORD REQUEST
Once your application is submitted your landlord will receive an email notifying them that the request was made and asking for proof of residency and arrears confirmation if necessary. Our team will follow up with your landlord if this information is not received within 24 hours. 
STEP 5: HOUSING ADVOCATE REVIEW AND DECISION NOTICE
Following submission, one of our Housing Advocates will be assigned to review your application. They will reach out to your by phone or email (depending on the contact preference listed in the application) to seek additional information as needed. Additional documentation may also be required for specific funding sources. If you are approved, your landlord will receive notice and will be asked to complete a landlord agreement. Our goal is to notify you of our decision within 5 business days but it can sometimes take a little longer if additional support documentation is needed. If we reach out with a request for additional information you will be asked to return the information within 72 hours. Remember you can always check on your application status by logging into your online portal.
If your rent assistance application is approved, you will receive an email confirmation and a rent payment assistance check will be sent to the landlord.
Each application is reviewed on a case-by-case basis. If you are not eligible for Rent Assistance through this program, you will be notified of the reason why and referred to a different source.
What Support Services Does Community Advocates Provide?
As part of our application process, your Case Manager will assess your situation for case management services and other resources to further help stabilize your housing. In addition, as the host site for the new Milwaukee Rental Housing Resource Center, you can be connected to the triage team for additional referrals to mediation and legal services. Visit communityadvocates.net or renthelpmke.org for additional information on support services.
Additional Notes: