Community Advocates Rent Assistance Program
Community Advocates administers federal and local funds to provide financial support for tenants in need in Milwaukee and Waukesha Counties. If you have experienced financial hardship during the Covid-19 pandemic and are behind on rent or utilities, you may be eligible to receive rental assistance. Please read the FAQ below to be sure that you meet the eligibility requirements, then click on the link to fill out an application on our safe and secure application portal. You can also pick up and drop off a hard copy application at our downtown office at 728 North James Lovell Street from 9 a.m. to 5 p.m., Monday - Friday. Waukesha County residents can pick up and drop off hard copy applications at these sites.
Please note that all services Community Advocates provides are free of charge, including rental assistance application processing. Under no circumstances should you be asked for payment for our services. If you are asked for payment in order to receive or fast-track services, please do not provide this information. Immediately contact our team at 414-270-4646. 
1. Am I Eligible?
You are eligible for rental assistance if you meet the following requirements:
Must live in Waukesha or Milwaukee County
Must be a renter
Must have an income lower than 80% of the area median income.
Must have past-due rent
Must either:
Have experienced a loss or significant reduction of income or incurred significant expenses due directly or indirectly to the Covid-19 pandemic;
OR qualify for unemployment benefits
OR have experienced a loss of income in the last 60 days.
2. What Can Rental Assistance Cover?
Up to 12 months of past due rent and rental fees (only for payments due after March 13, 2020).
Three months of future rent.
Security deposit
Utility and home energy costs, including internet. For utilities arrears, applicants must apply with the Home Energy Plus Program first.
Learn more about Waukesha County's rent assistance program in English and en Espanol.
3. What Documents Do I Need to Apply?
You will be asked to provide a photo or photocopy of the following documents:
Driver's license or state ID
Documentation of any income you receive
Proof of financial hardship (Click here to see acceptable forms of documentation.)
Eviction notice or arrears statement. (Note: Community Advocates will reach out to your landlord if you cannot provide the arrears information at the time of application.)
4. What Are the Steps to Apply?
The Rental Assistance online application can be completed by tenants and landlords on a computer, tablet, or mobile device. The Rent Assistance Application can be found and submitted at this link. 
You can save an incomplete application in your portal and come back to it at any time.
If you are not able to complete your application through these platforms you can come to our downtown offices located at 728 N. James Lovell Street, Milwaukee, WI, 53233 and pick up and drop off a hard copy application. Waukesha County residents can pick up and drop off hard copy applications at these sites.
If you need help or have questions you can contact a member of our team by emailing renthelp@communityadvocates.net. Applicants can also request an application by calling the Rent Help Line at 414-270-4646.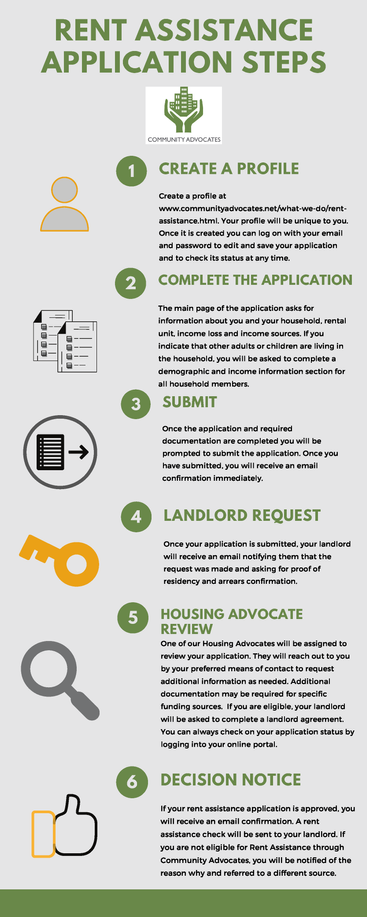 5. How Long Will It Take for My Application to be Processed?
Our current turnaround time is 21-30 days. Additional time may be required if the case manager determines that your supporting documents need to be updated. To ensure that the process goes as smoothly as possible, please be sure to upload all of the required documents.
6. How Much Can a Household Receive?
There is generally no cap on the dollar amount that a household can receive. However, rental assistance is limited to a maximum of 15 months (12 months of past due rent + 3 months of future rent).
7. How Will the Payment be Distributed?
Payments will be issued via check to the tenant's landlord on their behalf.
8. What Support Services Does Community Advocates Provide?
As part of our application process, your Case Manager will assess your situation for case management services and other resources to further help stabilize your housing. In addition, as the host site for the new Milwaukee Rental Housing Resource Center, you can be connected to the triage team for additional referrals to mediation and legal services. Visit communityadvocates.net or renthelpmke.org for additional information on support services.
Additional Notes: