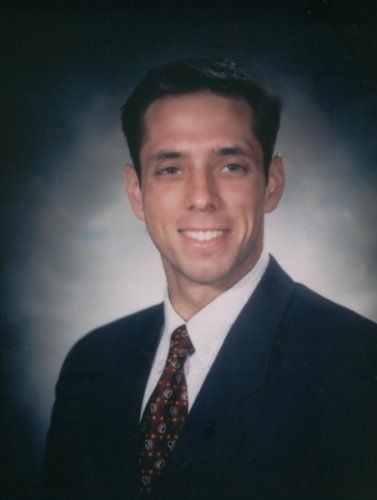 Each donation Community Advocates receives is much appreciated. But this month, we were especially honored to receive the gift of clothing from the family of Paul M. Hauer, who passed away unexpectedly in February at the age of 47. Paul's clothing—hundreds of pieces in perfect condition ranging from everyday essentials to shoes to business suits—will be distributed to individuals participating in The Bottomless Closet's services for job seekers overcoming barriers to enter or rejoin the workforce.
The Hauer family—parents Michael and Carol, and siblings Mark, Emily, and Sara—remembered Paul as a generous, adventurous, and humble person who always focused on others, not himself. This gift to the Bottomless Closet's participants seemed like an apt way to continue his legacy of care and concern for all he encountered, they said.
"We believe that this was a cause that Paul would certainly approve of," his mother Carol said. "His whole life was about public service. So if he can continue to be helpful to people he would be just so happy to be part of that mission."
Hauer, an assistant district attorney with the Milwaukee County District Attorney's Office who most recently worked at the Vel R. Phillips Juvenile Justice Center, was a man of many varied talents. Fluent in Spanish thanks to a post-high school experience as an exchange student in Paraguay, he worked at Centro Legal por Derechos Humanos, Inc. in Milwaukee and Waukesha. He also performed in many musical theater productions as a child and high school student, earned a BS in biomedical engineering from Marquette University and his law degree from Drake University, and loved the outdoors.
"His enthusiasm for life was huge, from the time he was small," Carol said. "He lived with enthusiasm. He had a zest for life and a curiosity and a wonder. He appreciated nature so much. He appreciated music and the arts. And because of his intelligence, Paul had this wonderful imagination and comprehension, and found joy in so many things."
Jeri Kavanaugh, who manages The Bottomless Closet, said Paul's clothing will help job seekers feel more confident in their ability to succeed during a job interview and in the workplace. "Going on a job interview is stressful for everyone, and it's even more so for people who have hit a rough patch and are working hard for a second chance at success," Jeri said. "But when they know they look good and are well-prepared for a job interview, they are more likely to find a job that's a good fit for them. The many items of Paul's clothing donated by the Hauer family will improve their chances of success. We are very grateful for this thoughtful gift."