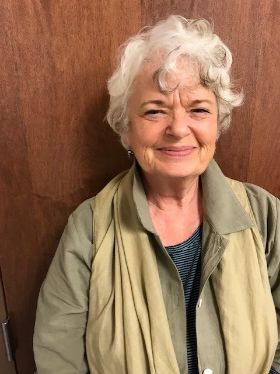 For Valerie Gabriel, committing to serving on Community Advocates' Board of Directors for thirty-plus years is an easy one to make.
"Community Advocates has stuck to its core, its mission, and it's been true to itself," Gabriel said. "There have been some peaks and valleys, of course, but it's never really strayed from what I think Community Advocates is. I never tire of it."
As Gabriel sees it, "Part of Community Advocates' identity is that they look for things. The wonderful staff actively looks for things that they can clear away. It's not like they just sit back and wait for things to come. There's an energy and a creativity."
Gabriel attributes that proactive attitude to Community Advocates' founder, Ramon Wagner, as well as its current leaders, CEO Andi Elliott and COO Maudwella Kirkendoll, both of whom began their careers at Community Advocates.
"I think Andi and Maudwella are top notch," Gabriel said. "Part of the reason why I stay around is that the leaders stay around. There's a longevity that I think a lot of nonprofits don't have the luxury of experiencing. Community Advocates has never strayed."
Gabriel, a Sherman Park resident, began her service on the board in 1986, after she graduated from Marquette University Law School following a 13-year career as a public school teacher. Instead of going into corporate law, she wanted to use her legal experience at a nonprofit and to give back to the community. Upon graduation she became an attorney at Wisconsin Education Association Council (WEAC). When a Marquette classmate asked if she'd be interested in serving on Community Advocates' board, she was interested.
"Then I met Ramon and a lot of the staff and board members and I felt like it was a good fit," Gabriel said.
She said the board service has helped to give her an identity and an anchor outside of work and allow her to contribute to improving the lives of thousands of struggling Milwaukeeans with respect and dignity.
"Community Advocates accepts people's stories where they are, they accept the city's story where it is," Gabriel said. "We aren't a bully agency. We recognize that every client who comes to us has his or her story and that is important to that person. We don't try to undo them; we try to make going forward something easier."
So, what's the way forward? Gabriel relies on Community Advocates' relationships to our clients to inform those decisions, as they always have.
"I know a board is supposed to be visionary, but Community Advocates' vision comes from staff, which is different from other nonprofits, where the board has the vision and the staff is directed to do it," Gabriel said. "We aren't like that. Community Advocates has always been staff driven, which means it's client driven. The organization's future depends on what's happening to the clients."