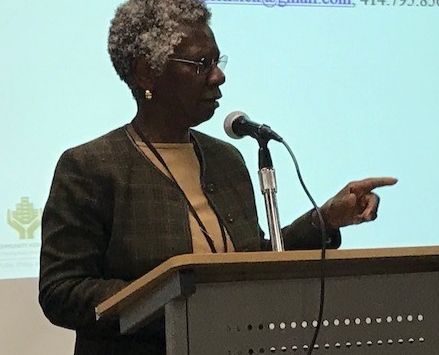 This month, Milwaukee's Transitional Jobs programs celebrated their achievements and said farewell and thank you to Secretary of Children and Families Eloise Anderson, who championed Transitional Jobs as a way to preserve families and provide a path to employment for eager men seeking work.
On December 6, the 30-member Milwaukee Transitional Jobs Collaborative was presented with the Rev. Herbert Huebschmann Urban Ministry Award at the Interfaith Conference of Greater Milwaukee's 48th Annual Luncheon.
The Collaborative was recognized "for providing pathways to self-reliance and dignity for thousands of people in Milwaukee and across Wisconsin who face impediments to employment, including many with prison records, by advocating for publicly subsidized transitional jobs that lead to non-subsidized employment."
The Collaborative also celebrated its successes at its December 11 gathering hosted by the United Way of Greater Milwaukee & Waukesha County.
"We have a particular Achilles heel in Milwaukee," said Community Advocates Public Policy Institute's Conor Williams, who facilitates the Collaborative. "There are too many people disconnected from work. They are able to work and they are gifted, as all God's people are gifted, but there aren't the connections to get that giftedness into the formal economy. Too many of those folks are working in the informal and sometimes the illegal economy, but they are talented people just like the rest of us. Transitional jobs are an effective policy to get those people connected to work and get them on the first step of the ladder of economic opportunity."
Rev. Joseph Ellwanger of MICAH, who chairs the Transitional Jobs Collaborative, recognized Secretary Anderson, saying, "She really stood up and said this is absolutely important and we are going to do it. And she is the champion who helped to keep the Transitional Jobs program in the budget when there were folks who were literally pushing it out of the budget."
Secretary Anderson said she supports Transitional Jobs because employment enables partners to get married and families to stay together. "Over the past 50 years, we've spent a lot of money on mothers, getting her ready and independent and self-sufficient, but we've spent almost zero money on fathers," she said.
Wisconsin's Transitional Jobs initiatives began in 2009, when a group of local leaders, including the Public Policy Institute's founder, David Riemer, asked what they could do to get people into work during the Great Recession, just as the federal government provided jobs during the Great Depression. The Public Policy Institute advocated for including short-term, subsidized jobs in the state budget as a small pilot project in Milwaukee. Since then, Transitional Jobs have expanded statewide and more than 6,000 disadvantaged workers have used Transitional Jobs as a stepping stone to unsubsidized employment.
Eric Knox did just that and is now self-employed as the owner of a construction company that he started with his partner.
"Transitional jobs have been a big stepping stone for me and getting my life on the right track," Knox said. "Hopefully I will have a chance to hire other people and give them the opportunity I had."