LGBTQ+ Youth Substance Use Prevention Summit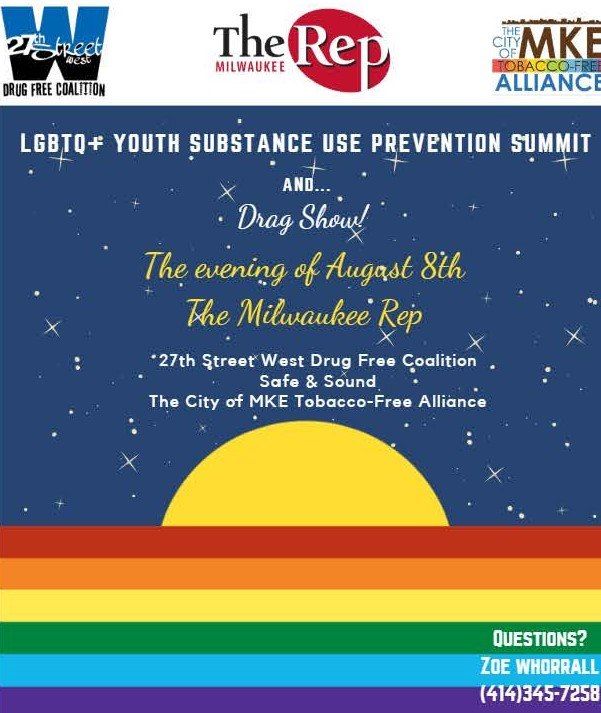 Join Safe & Sound's 27th Street West Drug Free Coalition and the City of Milwaukee Tobacco-Free Alliance for the first-ever LGBTQ+ Youth Substance Use Prevention Summit, which includes a resource fair, panel discussion, video presentations, and a drag show featuring Coco Monet!
The goal is to educate and support both young members of the LGBTQ+ community (ages 12-24) and their allies. Coalition members will educate LGBTQ+ young people on how to use coping mechanisms that will help them avoid the urge to use substances, as well as opening up a support network that will enable LGBTQ+ youth to connect with peers who have had similar experiences. Additionally, parents, teachers, and other LGBTQ+ allies will learn how to be better supports and in what ways they may strive to further understand those unique struggles that LGBTQ+ youth may face. In providing both LGBTQ+ youth and their allies with education and tools to be more supportive, the organizers hope to reduce the likelihood of LGBTQ+ youth substance use.
This free community event will take place at the Milwaukee Repertory Theater, Stackner Cabaret, 108 E. Wells St., Milwaukee, on Thursday, August 8, from 5 to 9 p.m.