An Evening with Alex Kotlowitz, Author of "An American Summer: Love and Death in Chicago"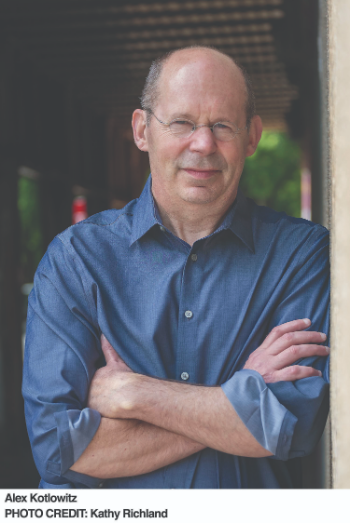 The numbers are staggering: over the past 20 years in Chicago, 14,033 people have been killed and another roughly 60,000 wounded by gunfire. What does that do to the spirit of individuals and community?
Drawing on his decades of experience, Alex Kotlowitz, author of "There Are No Children Here," set out to chronicle one summer in the city, writing about individuals who have emerged from the violence and whose stories capture the capacity -- and the breaking point -- of the human heart and soul. The result, "An American Summer: Love and Death in Chicago," is a spellbinding collection of deeply intimate profiles that upend what we think we know about gun violence in America.
Among others, we meet a man who as a teenager killed a rival gang member and twenty years later is still trying to come to terms with what he's done; a devoted school social worker struggling with her favorite student, who refuses to give evidence in the shooting death of his best friend; the witness to a wrongful police shooting who can't shake what he has seen; and an aging former gang leader who builds a place of refuge for himself and his friends.
Community Advocates Public Policy Institute and the City of Milwaukee Office of Violence Prevention are cosponsoring this evening at Boswell Book Co., during which Kotlowitz will discuss and sign "An American Summer: Love and Death in Chicago."
This event is free and open to the public, but RSVPs are strongly encouraged because space is limited. Get your ticket at the link below.
ALEX KOTLOWITZ is the author of three previous books, including the national bestseller There Are No Children Here, selected by the New York Public Library as one of the 150 most important books of the twentieth century. The Other Side of the River was awarded the Chicago Tribune's Heartland Prize for Nonfiction. His work has appeared in The New Yorker, The New York Times Magazine and on This American Life. His documentary work includes The Interrupters, for which he received a Film Independent Spirit Award and an Emmy. His other honors include a George Polk Award, two Peabodys, the Helen B. Bernstein Award, and the Robert F. Kennedy Journalism Award. He teaches at Northwestern University.
Praise for "An American Summer"
"A masterpiece of real-life storytelling. With each unforgettable story, Kotlowitz draws us into the lives of people living and working in some of Chicago's most abandoned communities. The stories of suffering and revenge unsettle and enrage; those of grace and forgiveness warm and inspire. Together, they dispel with cheap explanations, offering deeper sense to acts thought senseless and revealing people's depth and humanity lost in the headlines."
--Matthew Desmond, Pulitzer Prize-winning author of Evicted
"Alex Kotlowitz, America's pre-eminent narrative journalist, has written a searing, profound and profoundly human book about the gun violence that plagues American cities. Everyone who cares about the future of our cities and of our country will come away deeply moved, and with a deepened understanding of the long shadow cast by substandard schools, housing and job opportunities. It's not a call to action, but the stories Kotlowitz tells cry out to all readers to start acting."
--Sara Paretsky, New York Times bestselling author of Shell Game