State Leaders Look Ahead: Which Policies Will Ensure All Wisconsinites Thrive?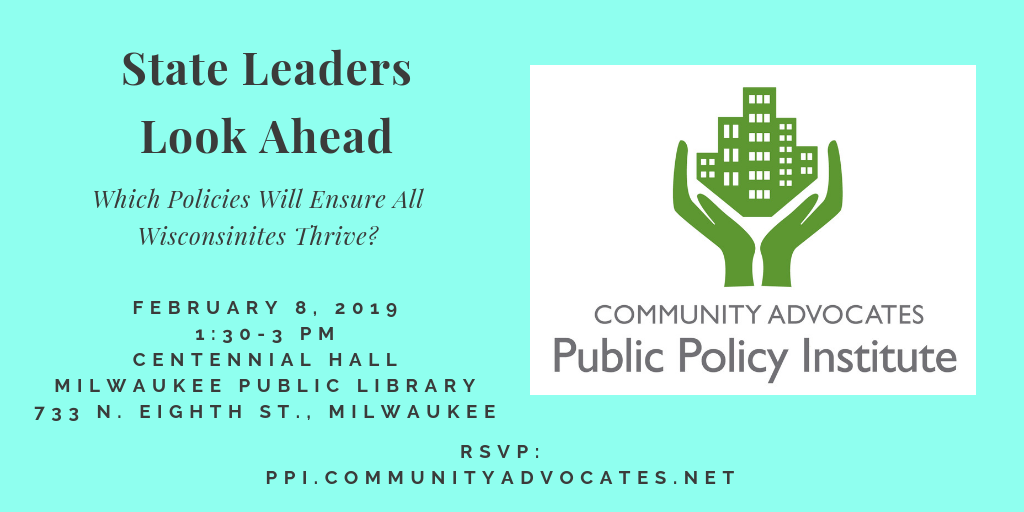 Join Community Advocates Public Policy Institute's panel discussion with state leaders from both parties to discover which policy changes will help Wisconsinites find and keep family-supporting jobs, earn good wages, have health care coverage, and thrive in 2019 and beyond. There is no cost to attend this community event, but RSVPs are required.
Confirmed panelists are state Sen. LaTonya Johnson, state Rep. Evan Goyke, and state Rep. Daniel Riemer. State Sen. Dale Kooyenga can no longer attend and sends his regrets.
Please note that the location had changed to Centennial Hall at the Milwaukee Public Library. Doors open at 1 p.m.
Permission to use Centennial Hall does not imply library endorsement of the aims, views, policies, or activities of any group or organization.
Upon reasonable notice, efforts will be made to accommodate the needs of individuals with disabilities. For more information or to request accommodations, please contact us at 414-270-2999 or lkaiser@communityadvocates.net.