Public Policy Institute 10th Anniversary Celebration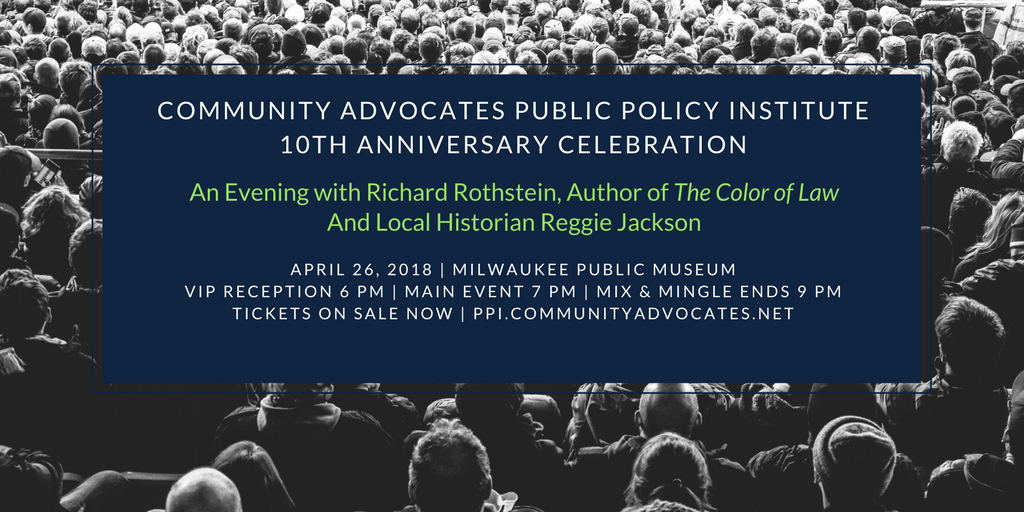 Community Advocates formed the Public Policy Institute in 2008 to address the root causes of poverty so that we could prevent clients from ever needing our services.
As our 10th anniversary approaches, we are looking forward to celebrating our successes with our supporters.
To mark our first decade and kick off our second, on April 26, 2018, Community Advocates Public Policy Institute will host a special night at the Milwaukee Public Museum featuring keynote speaker Richard Rothstein, author of "The Color of Law: A Forgotten History of How Our Government Segregated America," a finalist on the long list for the National Book Award for nonfiction in 2017.
To provide a local perspective on housing segregation in Milwaukee, the evening's special guest will be Milwaukee historian Reggie Jackson, Head Griot of America's Black Holocaust Museum.
Here's what you can expect:
VIP Reception, 6 p.m.: Sponsors and individuals with VIP tickets will be able to meet Rothstein and Jackson in an intimate gathering at the Milwaukee Public Museum with light refreshments from 6 to 7 p.m., before the main program begins.
Main Event, 7 p.m.: All guests will attend attend Rothstein's and Jackson's presentations on the roots and legacy of local and national policies creating residential segregation.
Mix & Mingle, 8 p.m.: All guests will enjoy private, after-hours access to Milwaukee Public Museum's recently renovated Streets of Old Milwaukee, which provides an environment in which guests can reflect on the past in order to transform the future. Our mix and mingle, with desserts and coffee, will conclude at 9 p.m.
Haven't read The Color of Law yet? Boswell Book Co. will be on hand to sell copies, which Rothstein has graciously agreed to sign that evening.
Individual VIP and general admission tickets are on sale now! Space is limited, so purchase yours as soon as you can.
Want to sponsor the event? Contact Public Policy Institute Deputy Director Kari Lerch for details.