Each day, Community Advocates gives to those who are struggling. In 2016, we touched the lives of more than 66,000 individuals and families who had nowhere else to turn.
That includes 3,220 individuals we helped to place in permanent housing; 41,600 Energy Assistance applications processed for low-income residents having trouble keeping their heat and lights on during the cold winter months; and 677 women and children who found shelter at the Milwaukee Women's Center when they were fleeing abuse or homelessness.
These numbers don't tell our story, though. Each individual has their unique history, obstacles, and triumphs—like Maria.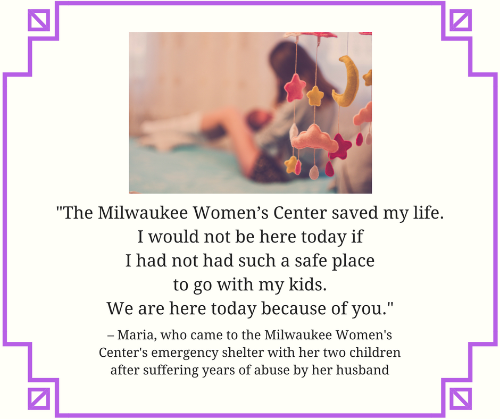 48 Hours of Giving
Being able to help Maria and her children live better lives is why we give.
From March 27 through March 29, 2018, our 48 Hours of Giving offered you a special opportunity to give, too. During our 48 Hours of Giving, your gifts will help us reach and touch the lives of individuals and families in need of housing, energy assistance, mental health, disability, addiction, and domestic violence services.
Our $5,000 Match Sponsor, Direct Supply, and our Board of Directors are matched the first $15,000 of donations given from 10 a.m. on Tuesday, March 27, through 10 a.m. on Thursday, March 29.
Our 48 Hours of Giving 2018 was a huge success. Thank you for your continued support!

Give Now
Mail a donation to:
     Community Advocates, Attn: 48 Hours of Giving
     728 N. James Lovell St.
     Milwaukee, WI 53233
Thank you for your consideration!
Please know that your donation will change lives!
If you want to stay updated on our giving campaigns and fundraising initiatives for Community Advocates and our Milwaukee Women's Center division, email Development Director Kris Uhen.
Why They Give