2017-2018 Energy Assistance Season Details
The 2017-2018 Milwaukee County Energy Assistance Season begins on October 1, 2017, and runs through May 15, 2018. During the season, eligible county residents can apply for a one-time payment to help cover a portion of their energy bills. The amount of the benefit varies depending on a number of factors, including household income and size, as well as their heating bills. Residents may also qualify for other benefits as well to reduce their utility costs.
If you live outside of Milwaukee County, you can receive energy assistance through the Wisconsin Low-Income Energy Assistance Program. Call 1-866-HEATWIS (432-8947) or click here for more details.
Are You Eligible?
Find out if you are eligible to apply for the Energy Assistance Program. Download a document below to learn more. In addition to receiving Energy Assistance, you may qualify for additional benefits, such as weatherization services or emergency furnace repair. We're ready to help you this winter!
Extended Hours Now Available
Through May 15, the Milwaukee County Energy Assistance Team is offering extended hours. Call 414-270-4653, go to energyassistancemke.org, or stop in one of our six locations to set up an appointment and reduce your energy bills.
Extended Hours:
Monday: 7:30 a.m. to 7 p.m.
Tuesday: 7:30 a.m. to 7 p.m.
Wednesday: 7:30 a.m. to 5 p.m.
Thursday: 7:30 a.m. to 7 p.m.
Friday: 7: 30 a.m. to 5 p.m.
Saturday: 8 a.m. to 12 noon
Make an Appointment
Call 414-270-4-MKE / 414-270-4563 / Dial 211 after hours
Click on EnergyAssistanceMKE.org
Stop by one of our six locations:
North: 6918 W. Brown Deer Road
Northwest: 4906 W. Fond du Lac Ave.
Downtown: 728 N. James Lovell St.
Bay View: 2701 S. Chase Ave.
West Allis: 6761 W. Greenfield Ave.
South: 5663 S. 27th St. 
If you live outside of Milwaukee County, go to the Wisconsin Low-Income Energy Assistance Program's website or call 1- 866-HEATWIS for more information.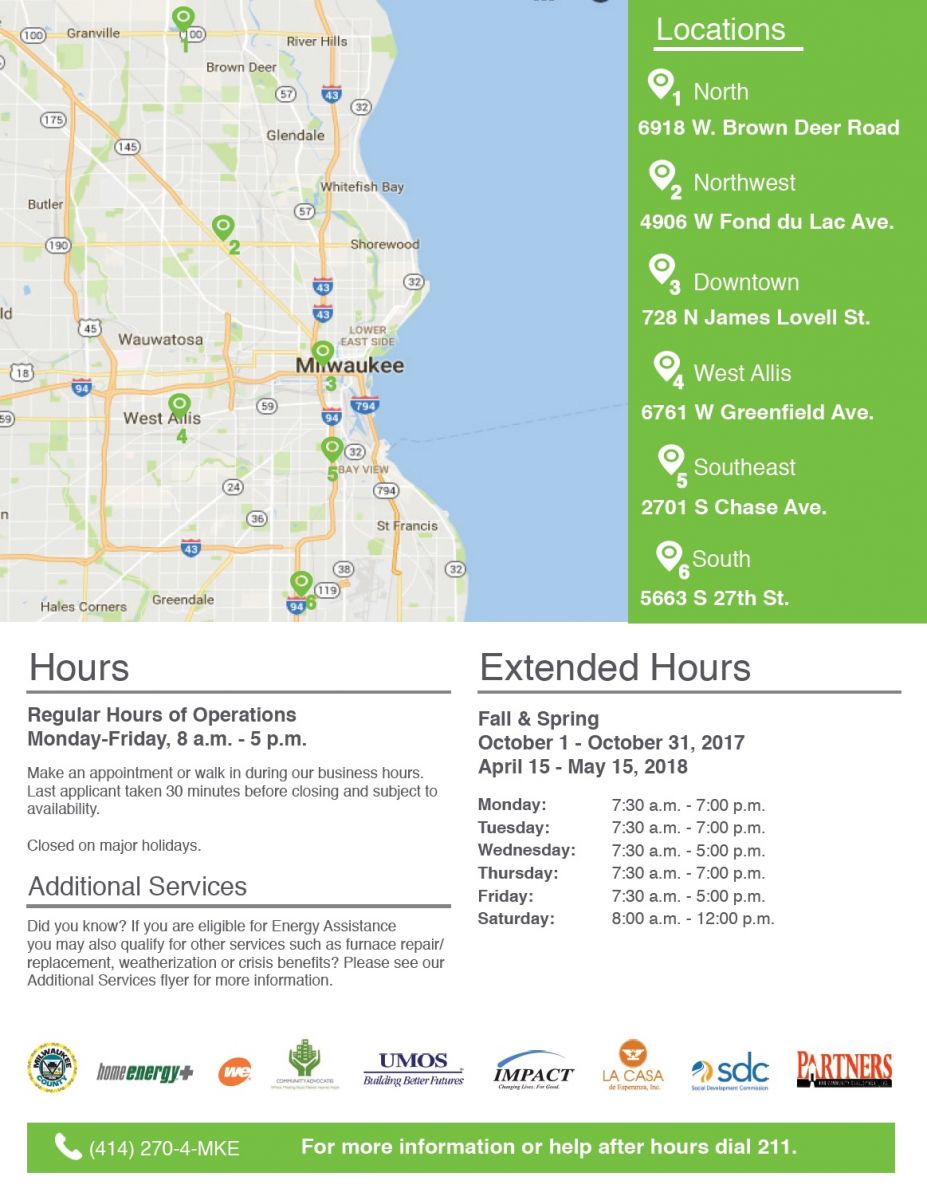 Note that we have extended hours during the first month of the season (October 1, 2017, through October 31, 2017), and again during the final month of the season (April 15, 2018, through May 15, 2018).
Get Ready for Your Appointment
To make your appointment go smoothly, take a look at the 2017-2018 Wisconsin Home Energy Assistance Program Checklist. Remember: You need to provide the documentation you'll need to successfully apply for the program. Look at the checklist so that you will know what to bring with you to your appointment.
If you have an emergency after hours, on the weekend, or during a holiday, call 2-1-1.
Frequently Asked Questions about Energy Assistance
Q: Will you be able to help me?

A: We can help you save time by clicking here to make an online appointment, which is the easiest and quickest way to get help. Assistance will depend on whether you meet program guidelines (see questions below and links to flyers above). Please see the question below for information on service hours and scheduling appointments.

Q: Can I apply for Energy Assistance at Community Advocates?

A: Yes. You can apply by making an appointment at EnergyAssistanceMKE.org. You can also schedule an appointment by calling (414) 270-4-MKE or by coming to our office in person during our open hours listed below. Limited first-come, first-served walk-in appointment availability starts each morning.

Q: When coming for my appointment, what information do I need to bring?

A: For more information, click on Checklist flyer here: English, Spanish, Hmong. After you have made your appointment, you must bring the following information:

• Picture ID for individual completing application -- Picture ID is only required for first-time energy applicants and New to Milwaukee County residents;

• Proof of all income sources for all household members 18 years or older for the previous three months (i.e., child support, wages, pension, SSI & Social Security award letters, etc.). Seasonal employees will require a copy of their 1040 including all W-2s and 1099s;

• Social Security numbers for all household individuals;

• Current energy bill (gas/electric/oil); and

• If your heat is included with your rent, you must bring a rent certificate or statement from the landlord confirming that heat is included in the rent.

Q: When I arrive for my appointment, who should I ask to see?

A: You will not need to ask for any specific person. Let the receptionist at the front desk know the reason for your visit and you will be directed to the appropriate person.

Q: Will I have to wait a long time for my appointment?

A: There may be a wait during heavy enrollment periods. You will not have to wait a long time to be seen for appointments made in advance. We will do our best to minimize waiting time for all appointments.